About We Bring the Party Events
We Bring the Party Events is just that… all about bringing the party to your event. If you want to have an awesome wedding reception, corporate events, school dance, military ball, sweet sixteen, quinceanera, or more you've come to the right place. We live to rock each and every event through music. We work to get to know our clients to make sure the song selections are what you want and not from a stock playlist. Our DJs are passionate about what they do and energetic lively personalities. We show up early and stay late to make sure your event is flawless from start to finish. And we have the track record to prove it. Learn more about out DJ's below.
Mike Emrick
I've been in the DJ business since college. I tried for many years to get away from DJing and it just kept pulling me back in. So since 2012 I have been fully committed to bringing the party for my clients and our business has grown each year. I take pride in my knowledge in music, reading crowds, MCing, and my technical ability with sound. Some celebrities are considered "triple threats" for their ability to act, sing, and dance. I think I am the DJ version of a triple treat with my ability to DJ and MC with the best of them and my sound mixes.
As the owner of WBTPE I am proud of where the company has gone. From a one man show to a team of 4 and growing, we grow so we can provide the best entertainment in the area to anyone who calls. It's not fun telling people no because we are already booked!
When I am not DJing I am working on other projects or working out. I enjoy golfing (even though I don't get to much anymore) and I am the lead sound person for my church. I have an amazingly patient wife Ellen and three boys Jack, Jameson and Jacob.
 Photo courtesy of Alison Weakley Photography
Chris Weeks "DJ Chris W"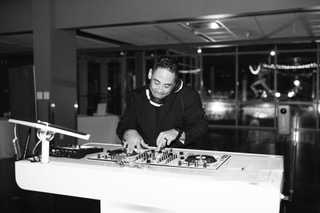 Chris started his career over 17 years ago as a professional disc jockey in Colorado Springs, Colorado. What started off as a hobby but quickly developed into a passion that he has grown to love. He is an open format DJ that has establishment himself as being versatile, dependable, and trustworthy. Throughout his professional DJ career he has specialized in corporate events, weddings, military balls, and private parties.
Photo courtesy of Ava V
Scott Nielsen "DJ VRB"

Since 2012 Scott has been entertaining in a wide range of events including club and bar DJing. His talents found him sharing the stage with acts such as Waka Flocka, Bubba Sparxxx, Audien, Riot Ten, amongst many others while also touring internationally with GlowRage. He has since joined WBTPE to bring his expertise in entertaining and unique performance style to local wedding and events.
Mark Guinto "DJ Marky Mark"
Mark began DJing in 2003 when his love for music led to collecting tons of vinyl records. Creating an entertaining atmosphere through skill and knowledge of music eventually led to his full commitment of becoming a DJ. He has done all type of events from weddings, concerts, birthday parties, to sporting events. Mark's biggest skills include his turntable art, reading crowds, and being a great MC. Other than his passion for being a DJ Mark is a devoted husband and  father of two!
Lawton Vierkant
Lawton is an absolute jack of all trades. Prior to 2020 he left the DJ scene to go out on the road as the Road Manager for a large band traveling the country for three years. This has given him the experience needed to navigate any challenge placed before him.And unfortunately covid forced him to change jobs. This has given him the opportunity to get back behind the controller and take care of clients. Lawton has received stellar reviews from all of his clients and takes pride in helping create amazing days! When Lawton isn't DJing he can be found managing a large YouTube channel covering the world of MMA or doing a number of other crazy things. We are not entirely sure when he sleeps!
DJs Josh Adkins and Lawton Vierkant Photo courtesy of J. Photography